Annual Events
Napa Open Space District 10th Year Celebration!
The Napa Open Space District celebrated their 10th Anniversary on February 23, 2017 at the historic Napa Mill.  Chair of the Napa Open Space District Board, Karen Turjanis, shared on the progress of the District and was joined by vintner Warren Winiarski who announced a matching grant of $25,000 for the District.  Food and wine, donated by local restaurants and the Napa Valley Vintners were enjoyed by all.
The Board with Assembly Member Cecilia Aguiar-Curray
Youngest Party Go'er
With Warren Winiarski
Events at the Bale Grist Mill State Historic Park:
Pancake Breakfast May 6, 2017
The best pancakes you have ever tasted!
Enjoy them with real maple syrup, fruit and sausage!  These pancakes are made just for you using an old family recipe – and what could be better than enjoying them outdoors under oak trees at the mill! Join us for breakfast and learn about membership to the Napa Valley State Parks Association and meet other members!
Flipping Pancakes
Making coffee
Waiting on the Maple Syrup
Harvest Dinner September 9, 2017
Enjoy a farm-to-table diner at the foot of the great water wheel!
Celebrate the harvest season with us at our annual fundraiser dinner. Every fall the Napa Valley State Parks Association, the nonprofit Association that supports all three state parks in Napa County, hosts an outdoor candle light dinner under the majestic oaks at the foot of the great waterwheel. This autumn event features a sumptuous farm-to-table dinner prepared from locally grown/raised food paired with fantastic Napa Valley wines. Mill around with us and enjoy bidding on silent auction items while listening to old-time music played by local musicians. Our miller will give special tours of the now fully restored 1846 mill that still grinds grain using the original stones. Your ticket price and donations will help keep the great wheel turning! Tickets  are $125 and can be purchased online in late summer at BrownPaperTickets.com or by calling Sandy at (707) 477-6305.
 
Old Mill Days at Bale Grist Mill – October 7 & 8, 2017
An 1850s/1860s living history event for the whole family!
Napa Valley's historic Bale Grist Mill is one of the last mills that still grinds grain on the old pair of stones brought here by ship from "the old country".  At Old Mill Days people can visit the mill and experience the shared hard work and resulting sense of community that bound our forefathers together when they try some traditional farm chores: corn husking and shelling, wheat threshing, butter making, apple pressing, hand sewing, bean seed shelling or rope making. Watch a blacksmith, see wagon wheel spokes being made using a draw blade at a shave horse bench or chop some wood. Many artisans will be present who enjoy sharing their craft with others: lacemaking, wheat weaving, a gunsmith, surveyor, and blacksmith. Mill docents will wear period correct clothes adding to the experience.  Simple outfits are available for children to wear during their "step-back-in-time" – and perhaps have their picture taken by the great waterwheel!.
Musicians will gather under the great oak trees and play old-time music all day.  Stew, cornbread and fresh-pressed apple cider will be available for purchase.
$5 per person. Children under 6 free.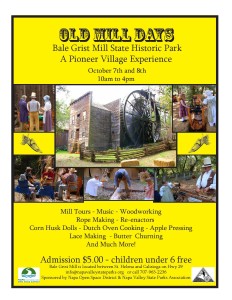 Pioneer Christmas December 9, 2017
Every Christmas season, Bale Grist Mill hosts a 19th century Christmas celebration, pioneer style. Enjoy making a clove pomander or wreath of rosemary for your home, or string popcorn and cranberries for the tree. Write a letter to Santa in calligraphy and seal with red wax. Children especially enjoy decorating gingerbread cookies or cutting paper snowflakes. There are demonstrations throughout the day: lace making, wool spinning, waxed egg decorating and milling demonstrations. Cookies and cider too!
Stringing Popcorn for the Tree
Pioneer Christmas
Carding Wool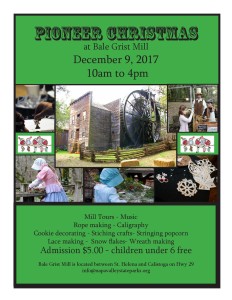 For more information and specific dates and times for events, please visit the Napa Valley State Park Association website.