Ward Five
 Barry Christian

2013 – 2018

   Ward Three
    Brent Randol

2015 – 2020

   Ward One
   Karen Bower-Turjanis

2013 – 2018

   Ward Four
   David Finigan

2006 – 2020

   Ward Two
   Tony Norris

2006 – 2020
In November of 2006 Napa County voters approved Measure I establishing the Napa County Regional Park and Open Space District. The District is authorized to protect and preserve natural areas, wildlife habitat and other open space resources, and to plan, improve and operate a system of public parks, trails, outdoor recreational facilities, and outdoor science and conservation education programs. Its jurisdiction includes all of Napa County.
The District is governed by a Board of Directors whose members are directly elected by the public in each of five wards. Ward boundaries coincide with the County's Board of Supervisors' districts.
Funding and staffing for the District currently comes from the County of Napa, at the level determined by the County Board of Supervisors. The District is also empowered to obtain grants, accept gifts and collect fees for services provided. Subject to voter approval, the District is authorized to raise revenues through some types of property assessments and taxes.
The District has no power to regulate private land use, is subject to all applicable city and county regulations, and may only acquire property from willing sellers.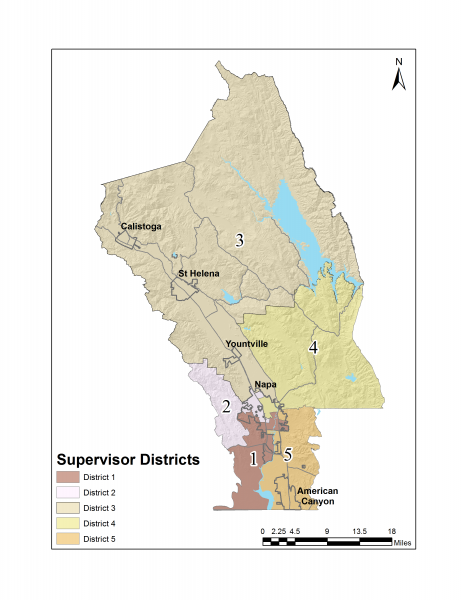 Board of Directors
President – Karen Bower Turjanis,  Ward 1, kbowerturjanis@ncrposd.org
Vice President – Brent Randol, Ward 3, brandol@ncrposd.org
Tony Norris,  Ward 2, tnorris@ncrposd.org
Dave Finigan,  Ward 4, dfinigan@ncrposd.org
Barry Christian, Ward 5, bchristian@ncrposd.org
General Manager
John Woodbury, 707-259-5933, jwoodbury@ncrposd.org
Principal Planner/ Deputy General Manager
Chris Cahill, 707-253-4847, ccahill@ncrposd.org
Outreach Coordinator
Chino Yip, cyip@ncrposd.org
District Secretary
Melissa Frost, 707-299-1380, mfrost@ncrposd.org
District Counsel
Dylan Roy, dylan.roy@countyofnapa.org
District Treasurer
Tamie Frasier, tfrasier@ncrposd.org
District Auditor-Controller
Tracy Schulze, tschulze@ncrposd.org
Park Manager, Bothe-Napa Valley SP and Bale Grist Mill SHP
(acting) Rob Grassi, 707-942-4575, rgrassi@ncrposd.org
Park Maintenance Specialist, Bothe-Napa Valley SP and Bale Grist Mill SHP
Rob Grassi, 707-942-4575, rgrassi@ncrposd.org