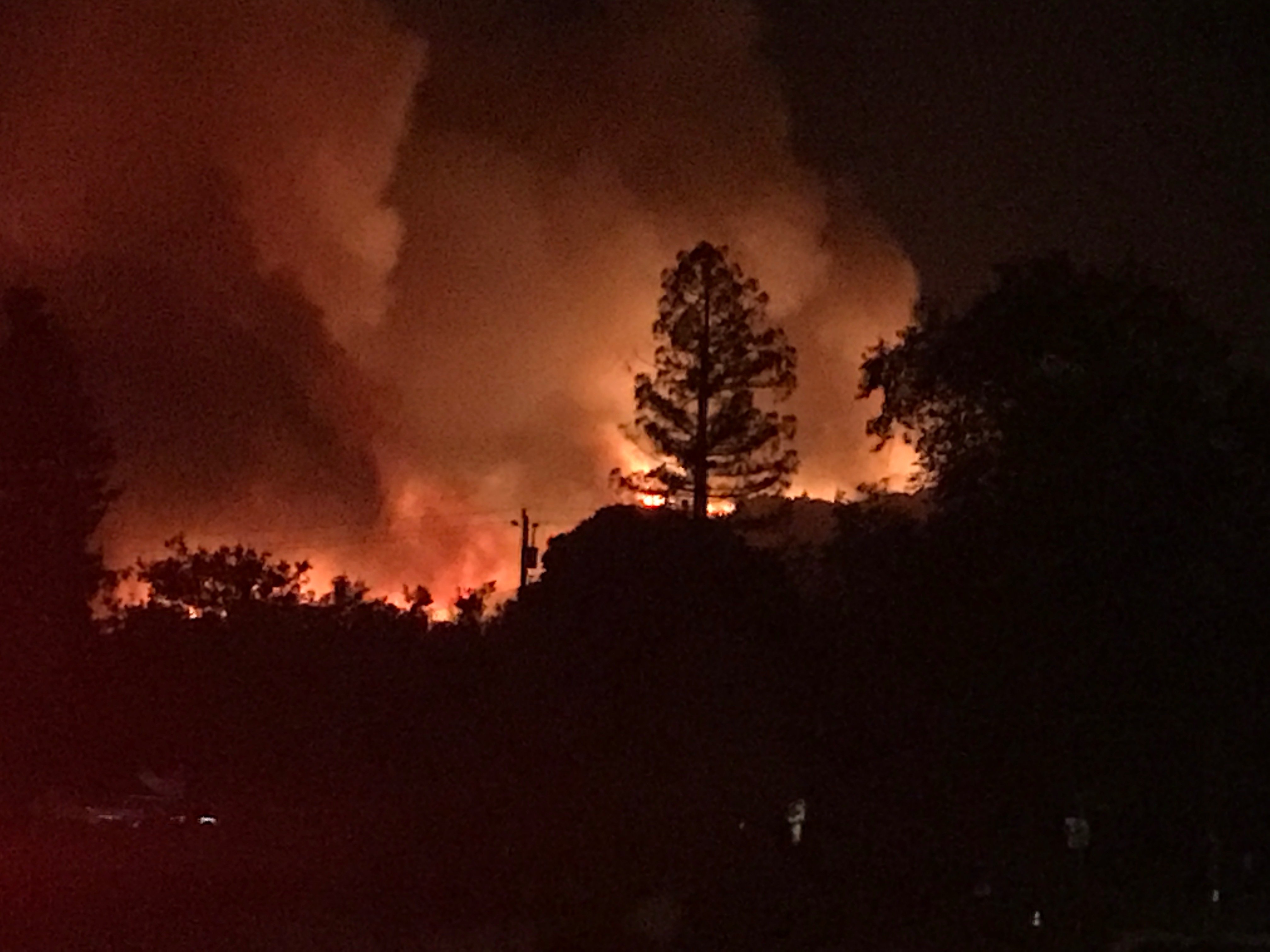 On Sunday, October 8, multiple wildfires started in Napa County creating the Napa Fire Complex.  According to CalFire and as of October 12 more than 100,000 acres have burned.
There are multiple areas under mandatory evacuation and all parks and open space in Napa County are currently closed.  Due to air quality please stay inside and keep the windows and doors closed.  Please do not visit the area to see what is happening, as increased vehicle traffic impair emergency vehicles.
Some of the parks and open space that are managed by the Napa Open Space District have been impacted.
Bothe Napa Valley State Park and Bale Grist State Historic Park are closed.  Both parks have not been impacted although the Nuns fire is a threat.
Robert Louis Stevenson State Park is currently impacted by the Tubbs Fire.   The Montesol property, which the NOSD has an option to purchase hasn't burned yet, but most likely will unless the winds change.  Both areas are under mandatory evacuation and are closed.  Oat Hill Mine Trail has not been impacted but is a mandatory evacuation area and is currently closed.  The Tubbs fire continues to move west and south.
Moore Creek Park is closed and hasn't been impacted.  However, if the Atlas Peak fire continues to move north it could reach Moore Creek.
Berryessa Vista is right on the edge of the Atlas fire and could be impacted depending on wind direction.  Camp Berryesssa and Smittle Creek are fine for now, but the area around it has been evacuated.  All roads to Lake Berryessa are closed.
Soscol Headwaters Preserve was ok yesterday afternoon-the fire had stopped right at the north boundary line.  But last night CalFire set backfires in the area, and it appears that has burned everything north of Suscol Ridge.  Hopefully this line will hold.
The Cove was surrounded by the Nuns fire yesterday, and is most likely impacted.
There are two good resources to go to for information on the Napa Fire Complex.
Click here for a map of the fire.
Click here for the County of Napa; Napa Fire Complex information.
We'll keep you updated as information becomes available.